Jadeveon Clowney & Seahawks Defense Come Up Big In Crazy Win Over 49ers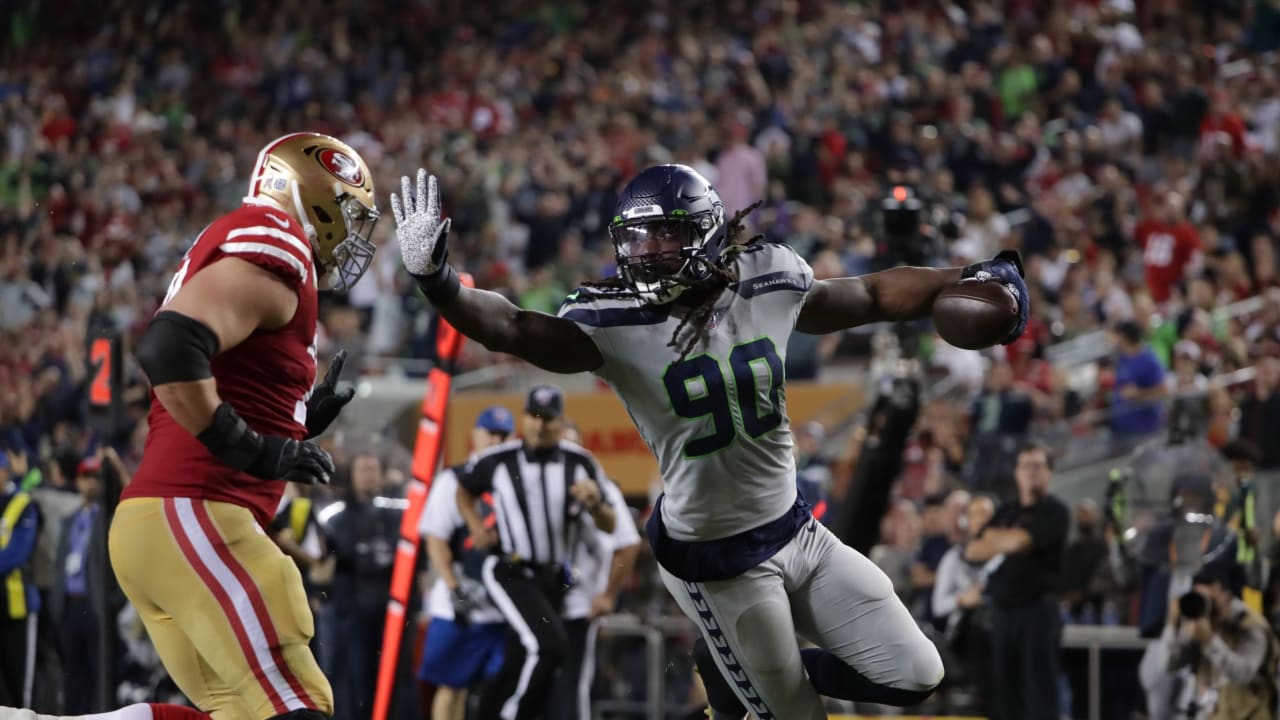 SANTA CLARA—Russell Wilson has been a part of so many close games and wild finishes in his eight seasons with the Seahawks, so it was significant when he said after Monday night's overtime win over the 49ers that this might have been "the most amazing game I've been a part of."
"That was the craziest game I've ever been a part of," Wilson said after the Seahawks' 27-24 win that improved their record to 8-2, and for the first time in franchise history, 5-0 on the road. "… It felt like an NFC championship game right there. Just back and forth, back and forth, two great teams going after it.
Wilson, of course, has played in actual NFC championship games, one of which was a close win over the 49ers, and while the teams have changed a ton since then, one thing this game had in common with some of those battles with the 49ers earlier this decade—aside from general craziness—was some really good, physical playmaking defense from both teams.
And in a win that was big for so many reasons for the Seahawks, not the least of which being that they closed the gap on the first-place 49ers, one of the biggest developments was the emergence of Seattle's defense, and its pass rush in particular, after several weeks of not playing at the level the Seahawks expect on that side of the ball.
The 49ers came out of the gate with two scoring drives to build a 10-0 lead, and for a defense that struggled in the second half of a Week 8 win in Atlanta, then again last week in a win over Tampa Bay, that could have been the beginning of a very long night. Instead, Seattle's defense spent the rest of the night playing its best football of the season, allowing only two scoring drives the rest of the way, both of them field goals. After the two initial scoring drives, the 49ers next eight possessions, minus a kneel down to end the half, went: punt, punt, fumble, punt, turnover on downs, interception, fumble, punt.
The Seahawks held the 49ers to 302 yards and just a 3.9 yards-per-play average, they forced three turnovers, one of them a Jarran Reed forced fumble that Jadeveon Clowney recovered and returned 10 yards for his second touchdown of the season, and the other two—a Quandre Diggs interception and long return, and a Clowney sack/forced fumble that was recovered by Poona Ford—set up Seahawks touchdowns. In addition to keeping 49ers quarterback Jimmy Garoppolo and the passing game in check, the Seahawks also held the NFL's No. 2 rushing offense to 87 yards on 27 carries, well below its average of 171.1 yards per game heading into the game.
"What I really liked about this game was the way it started, then the surge that happened in the middle of it when our guys went eight straight drives without letting them get anything going on offense," Carroll said. "I thought Kenny did a fantastic job tonight with our guys, we had to adjust from right off the start, and the guys took to it. We did some different things other than what the plan called for. We ended up sacking them five times tonight and getting after the quarterback like we had hoped to. Maybe this is the start that we've been looking for with the pass rush. There was a really good rush tonight. Jadeveon Clowney was fantastic tonight, when he was close, he was causing problems, and he scored again. So I really loved what the defense did during this night, it's important to us, really important to us the way we played. It's a great running football team, and we held them to 80 yards or whatever the heck it was. That's a big night by the guys up front and by the linebackers and when we needed it most. It was really a big night."
For Seattle's defense, this night was about pride, not just because players were unhappy with how they played in the past couple of games, but also because they wanted to make it known that San Francisco doesn't have the only good defense in the NFC West.
"That was our mindset the whole game, we just wanted to prove we were the best defense on the field today," said linebacker Bobby Wagner, who had a team-high 11 tackles. "It was really our mindset, because we understood what everybody was thinking after the last two weeks, and we felt like we played really well… Guys were locked in, we played a lot more disciplined, and it was just the mentality. We wanted to be great. We understood the matchup that we had. Their defense was considered the best defense, and we wanted to try to show otherwise."
The Seahawks got playmaking from their secondary that deserves praise, whether it was Diggs' interception in his first game as a Seahawk, or big hits from Bradley McDougald, or a very impressive pass breakup by Shaquill Griffin on what ended up being San Francisco's final offensive play in overtime. But what stood out most, and what is the most encouraging sign going forward, was the play off the pass rush, and especially of Clowney, who was an absolute force throughout the game.
The Seahawks have struggled to get to the quarterback this season, recording 15 sacks in their first nine games, but on Monday Seattle had five sacks and 10 quarterback hits, with those of those sacks turning into turnovers. Clowney had one of those sacks, also forcing a fumble on the play, he scored on a fumble return, he hit Garoppolo five times, recorded five tackles, and was just a general nuisance all night line, often times making plays that didn't show up in the stat book.
"It was a breakout game," Carroll said. "I thought he was so impressive all night long. I don't know how, I thought they were tackling him, he was just penetrating so fast and so furiously. And what a fantastic game. And yeah, we would have liked to have seen (the pass rush) a little earlier, but if we get going now this is where we kick into high gear, then that's a really good defense and we looked pretty good tonight too. I'm really proud of our guys."
The Seahawks traded for Clowney before the start of the season hoping he could be a difference maker for their defense, and on Monday he wasn't only that, he might have been the best player on the field.
Published at Tue, 12 Nov 2019 10:07:59 +0000