K.J. Wright Calls Ninth Season With Seahawks "A Blessing And An Honor"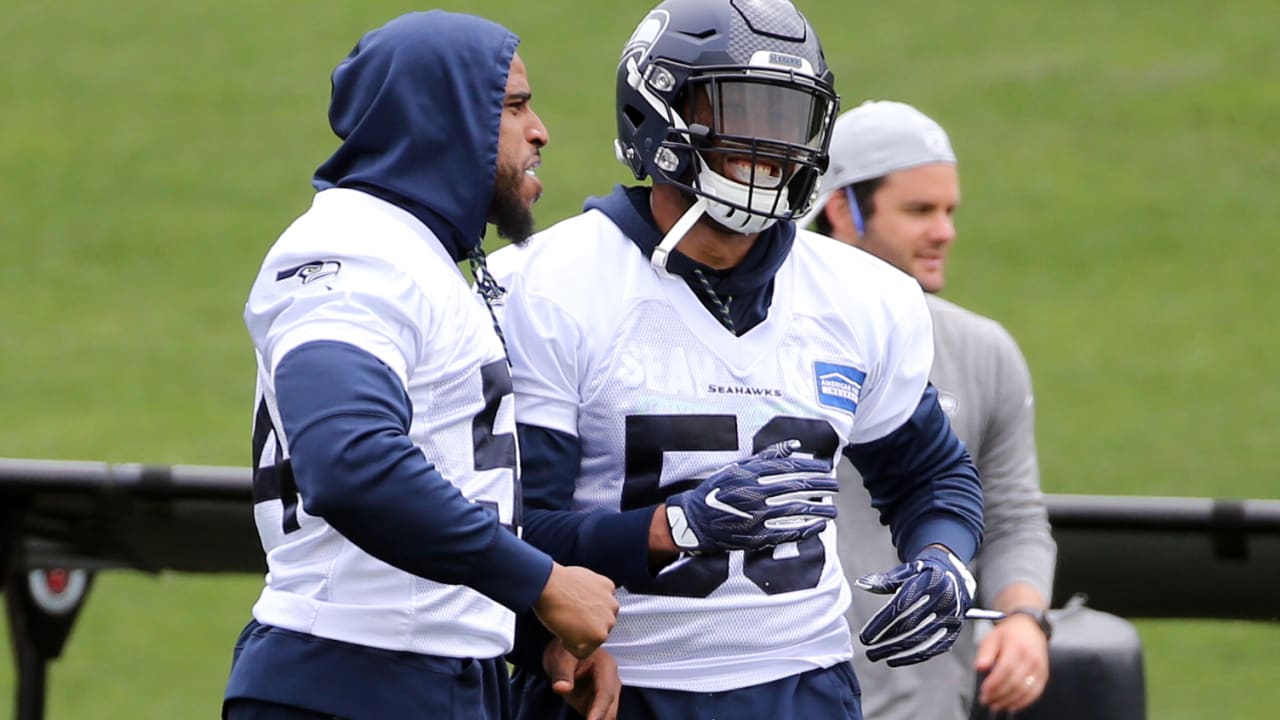 When K.J. Wright learned he was going to need knee surgery last year, the Seahawks linebacker's reaction was understandably grim.
"I was like, 'Dang, this is not very good,'" Wright said. "Contract year, surgery, five games, all those signs say, 'Thank you for your services, but we've got to move on.'"
Yet there Wright stood on Wednesday, saying this following a session of organized team activities that are part of the preparation for his ninth season with the Seahawks.
Wright played in only five regular-season games last year due to a knee injury, which as he noted is hardly ideal for someone in the final year of his contract, and he briefly became a free-agent in March, but the Seahawks still brought him back for what will be his ninth season, making him the longest-tenured player on the roster, something he thought might not happen when the 2018 season came to an end.
"I didn't see it happening," Wright said of re-signing with Seattle. "I thought I was going to be in a different color jersey. But they love me here, I'm glad they love me, and they know what I bring to the table. I'm still a hell of a linebacker, make plays all over the field."
Yet for all that Wright has accomplished over the past eight years—starting 108 games, recording 723 tackles and being a key part of one of the best defenses in NFL history—he knew past performance wasn't going to earn him a new contract, especially if he couldn't show what he could do coming off the knee injury. As a result, his play at the end of the season when he returned from the injury was crucial to getting another contract with Seattle.
"It was major," said Wright, who had a combined 15 tackles and an interception in Seattle's regular-season finale and the wild card loss in Dallas. "I know I'm a good football player, but you just have to keep doing it, because it's a what-have-you-done-for-me-lately business, so no one cares about what you did in the past, no one cares about those eight years. It's, 'What can you do for us going forward?' So it was big for me, I was just happy to be back out there playing ball."
And with the Seahawks releasing Kam Chancellor and Doug Baldwin with failed physical designations earlier this month, Wright is back out there playing ball as the longest-tenured member of the team, having one more year of experience than 2012 draft picks Russell Wilson and Bobby Wagner.
"Year nine for me," he said. "Someone told me yesterday (that I'm the) longest-tenured Seahawk, which is a blessing and an honor just to be in one program your whole career, and it's fun being in this position. It's more of a mentoring role in this phase and when training camp comes, I'll be out there hustling and bustling with the guys."
As Wright notes, he's in more of a mentoring phase now, doing limited work in these practices to keep his legs fresh, and he has been impressed with what he has seen from the young linebackers who have filled in for him and for Wagner, who is also present but not practicing.
"It's always fun just taking in rookies, teaching them how to be pros, teaching them the ins and outs of the game," Wright said. "But the thing with these guys, especially in my group, is they're really ahead of the curve and really smart. BBK (Ben Burr-Kirven) and Cody Barton are very impressive rookies and I'm enjoying what I'm seeing out of them so far."
Wright plans to be full-go when training camp starts, but before that, he has an important trip to make this summer, returning to Kenya where money he raised over the last year will pay for the installation of two wells in Maasai Mara, a village he visited last summer.
"When I was there, I noticed this young girl had dirty brown water," Wright said last year when he announced a campaign to raise money for the wells. "So, I just wanted to help this community. The young ladies have to walk many miles twice a day just to bring back water, and when they do get the water, it's not even clean. Millions of people suffer from (a lack) of easy access to (water), and I just want to bless this community that blessed me."
Published at Wed, 29 May 2019 23:57:00 +0000