Seahawks Know "We Won't Ever Replace" Doug Baldwin, But Are Excited About Current Group Of Receivers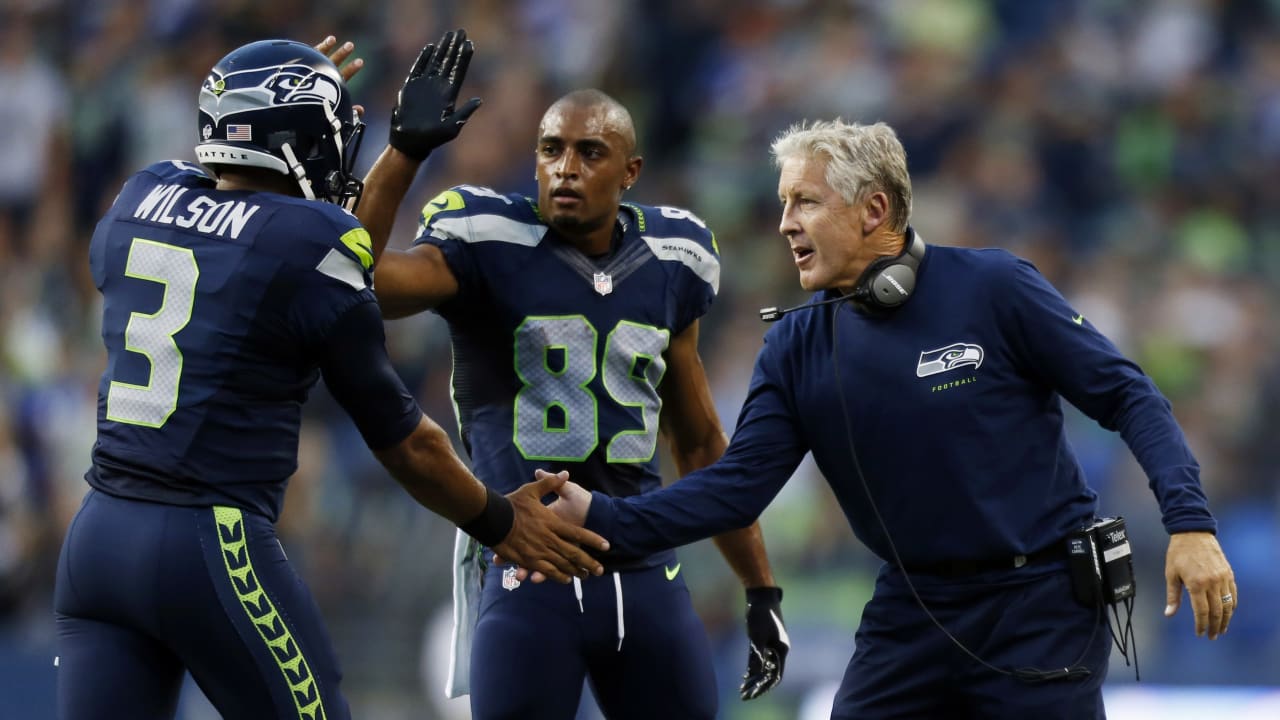 As Russell Wilson connected with Tyler Lockett time after time during Tuesday's session of organized team activities, it served as a good reminder that the Seahawks passing game will be in good hands in 2019. But as the Seahawks went through OTAs without the familiar No. 89 present, Tuesday's practice was also a reminder that things will not be the same for Wilson and the rest of the offense.
For the first time since he signed as an undrafted rookie free agent in 2011, Doug Baldwin is not part of Seattle's offense, having been released with a failed physical designation earlier this month. A two-time Pro-Bowler, a passionate leader and a man who used his platform to make a difference off the field in so many different ways, Baldwin will be missed, and the Seahawks know there is no replacing all the things that made him special.
"He has been an integral part of everything we've ever been about since I've been here, it seems," Seahawks coach Pete Carroll said. "But not just that he has been a good player—he has been tremendous competitor in the program, he has been a leader and he's demonstrated everything that you're supposed to demonstrate as a ball player in terms of toughness and grit and care and love and passion and all of that. So I don't think we replace Doug; I think Doug was Doug and we won't ever replace him in particular. Somebody else will do something a little bit differently and will make his own spot for himself."
Wilson, who connected with Baldwin for 45 of the receiver's 49 career touchdowns, called Baldwin, "arguably been one of the best receivers in the National Football League for the past however many years since he came into the league. I'm glad he was on my team and I got to throw to him every day versus him being on another team. The thing about Doug is he was always open. He knew how to create separation. He had this fire that you didn't see it in anybody else almost in a way. I think that in terms of his passion, his love for the game, his love for just competing, his love for making plays—when the game's on the line he's going to make a play— you're going to miss that for sure. You're going to miss his leadership, you're going to miss his work ethic; a guy who would catch a slant and run it to the house every time at practice. He would practice and play hurt when other guys would be sitting out. He knew the game, he studied the game, nobody worked harder than he did. He also was a great coach on the field. He really coached the other players, the other wideouts, and also me too. When you think about who he is and what he's meant to this organization, what he's meant to undrafted free agents as well and the level that he's played at, the execution that he's played at, the big-time plays, there's nobody like Doug Baldwin. He's going to be remembered forever here and I think across the National Football League for that."
And as much as Seahawks players and coaches will miss Baldwin, they also are excited to see what's next for him.
"I think the world's wide open for Doug," Carroll said. "There's so much available to him. He is such a capable young man, he has so much to offer. We've all seen him on the field, and you guys have had a chance to interview him and all that, but the work he has done off the field has been extraordinary. He has tremendous depth and background, and he's willing to be in front and go for it. I don't think there's any ceiling on what Doug can do. I'm really exciting to watch this happen."
As for what the Seahawks will do at receiver going forward, they'll expect Lockett to lead the way after a standout 2018 campaign, and while the receiver depth beyond Lockett is less accomplished and experienced, Carroll likes what he has seen from that position group.
"We're going to have some real competitions rolling," Carroll said. "We added three guys to the competition just out of the draft, and also the free agent guys who just make this group really competitive. You're going to see that we're really fast, which is awesome. With DK (Metcalf) adding to it, he's as fast as you can get. They run really well, they're strong—we've got strong, tough physical, guys as well. (Amara) Darboh looks great, he's back in the fold now, so he goes right back into the competition of it. (David Moore) coming off kind of a breakout year for him, we're really counting on him to take another step here. I think it's a really good group. We have a different style of guys too. There's the guys who will be competing for the slot spot, we have size, we have speed, we have power. Jaron Brown had a terrific year for us last year—I feel like we underused him. He had a lot of touchdown catches, but we expect to get more out of him. I think it's a really good group. I have no idea how it's going to turn out, but it's going to be fun to see it happen."
Added Wilson: "Obviously we're losing a Pro Bowl, All-Pro type player in Doug Baldwin and what he's able to do, but Tyler Lockett had a phenomenal year last year. It's his time to step up again. He's going to have to play a major, major role this year, which he's one of the best receivers in the league and all the things he can do to separate… It's going to be an exciting competition to watch guys evolve. It's a long, long preseason and it's a long offseason and everything else, but the guys who want to work, the guys that want to be great, the guys who are going to do the extra work, the guys who at the end of the day are going to make a play and want to make a play, those are the guys that are going to make it, and we're going to have a lot of great players, so it's going to come down to seeing what happens in the preseason and then sure enough it'll be an exciting thing. I know one thing, I'm excited to play quarterback here just to be able to throw to these guys and how many guys are going to be able to get open, create separation and make plays."
Published at Wed, 22 May 2019 19:18:46 +0000