Seahawks Offensive Line Plans To Be "Demoralizing To Defenses" In 2019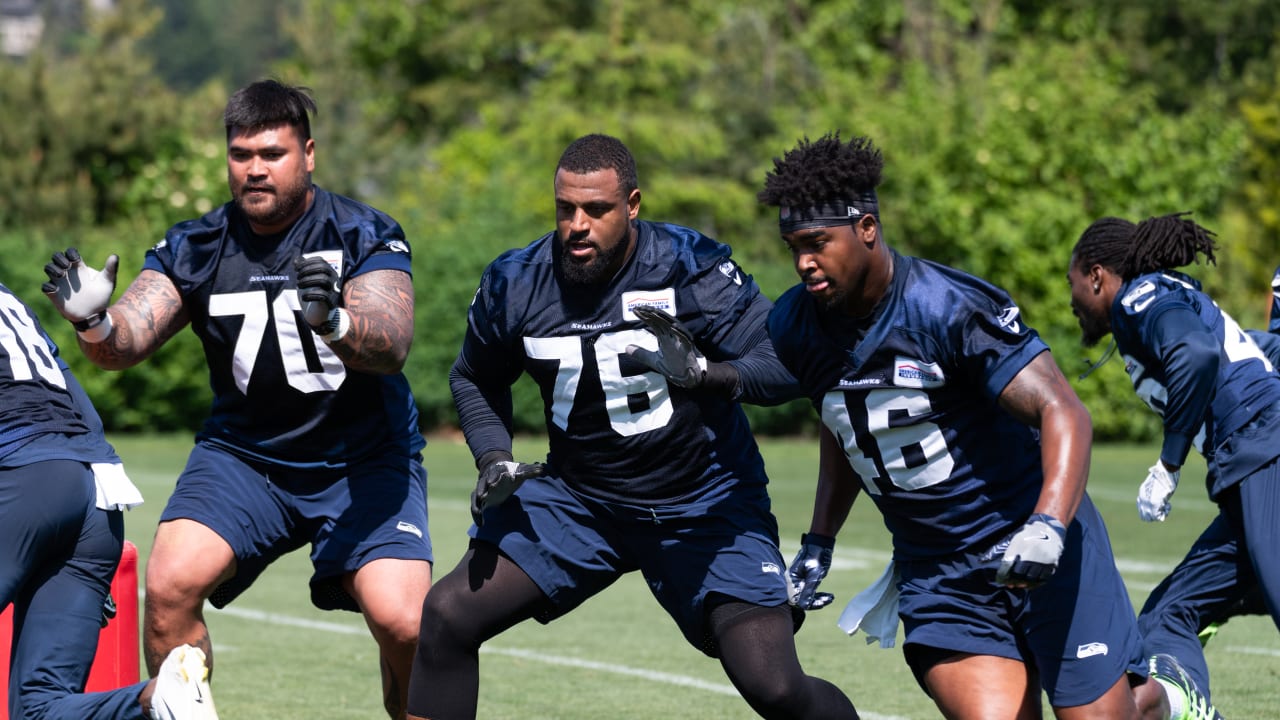 At this time last year, the Seahawks' offensive line was adjusting to change both in terms of personnel—starting right guard D.J. Fluker had signed as a free agent earlier that offseason, and eventual starting left guard J.R. Sweezy had yet to sign—and on the coaching staff, with Seattle making changes at both offensive line coach and offensive coordinator.
So perhaps it was somewhat inevitable that the line and the offense as a whole didn't get off to the best start as Seattle started the season with consecutive losses on the road—facing Von Miller and Khalil Mack in those two games certainly didn't make for an easier transition either. But as the season went on the Seahawks offense made some considerable improvements, and finished the year rushing for a league-best 160 yards per game while scoring the third most points in franchise history.
The Seahawks return four starters from that line—Duane Brown, Justin Britt, Germain Ifedi and Fluker—and the likely replacement for Sweezy is former Pro-Bowl guard Mike Iupati, who should hit the ground running have played five seasons under offensive line coach Mike Solari when the two were in San Francisco. And now, with a full year of working under Solari and offensive coordinator Brian Schottenheimer under their belts, Seattle's offensive players expect to be even better in 2019.
"Our line has a chance to be the best in the league, I think," Brown said. "If we keep everyone healthy, the talent we have, the mixture of youth and experience that we have, we have a chance to really be great, and Mike (Iupati) has been a really great addition for us."
Just as quarterback Russell Wilson noted a week ago when he said how much further along the entire offense is in its second season under Schottenheimer and Solari, Brown also sees a lot of growth out of his position group as it heads into 2019.
"We're very comfortable having a year with the system," Brown said. "You have your lumps that you get over, we ironed it out—you saw the production we had throughout the year—and this year, we're better for it. This time of year is all about getting the information, getting back up to speed on things, and we haven't missed a beat. We added Mike (Iupati), he stepped in and we haven't missed a beat. We're communicating everything well, no one is confused out there. I think once we get the pads on, the amount of physicality we will play with will be demoralizing to defenses, so I'm looking forward to it."
Brown has only been with the team since a trade brought him to Seattle in the middle of the 2017 season, but already he has seen some changes, both in terms of personnel and coaching, and he thinks the current mix of talent, mentality and coaching can make this a special group in 2019.
"I've only been here for a short time, but the offensive line—obviously you have to have some talent in the room—but outside of that, it's about effort, it's about a mentality, and it's about just being in sync," he said. "You've got to have that kind of comradery in the room in order to be great, and I think we've really been able to build that over the last couple of years. I think the mentality of never being denied, of being the most physical group on the field when we take the field on Sundays, I think we've shown that. Obviously there's a lot of room for improvement, more so in our pass protection—that's something we definitely put a point of emphasis on this year. The transformation has been great. It has been great to be a part of it. I'm loving this city and loving this organization, and I'm just trying to get better as a player, get better as a leader every week, and the guys have definitely been responding well to the system, to Coach Solari, and just really lifting each other up."
Published at Thu, 30 May 2019 17:42:30 +0000